Eddy Brimson, Simon Lomas, and host David Longley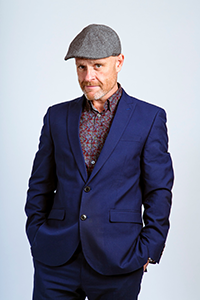 Since turning to comedy in 1999, Eddy Brimson has well and truly established himself on the live circuit and is regarded by some as one of the leading headline comics in British comedy and the world. His career has even taken him from Dundee to Dubai!
To say Eddy has a colourful past is something of an understatement. A self-confessed former football hooligan before turning his hands to better use as a writer and comedian.
His many TV appearances include Smith & Jones, Heartburn Hotel, Eastenders, Absolutely Fabulous, The Thin Blue Line, Hale & Pace, The Bill, Silent Witness, Casualty, Between the Lines and the HBO movie The Infiltrator.
Eddy is also a regular radio contributor to shows on BBC Radio 5 and Talksport and also a prolific writer, having penned seven best-selling books.
Despite only starting stand up in September 2015, Simon Lomas is already regarded as one of the most refreshing and exciting new acts on the circuit. In August 2017 he performed as part of Just The Tonic's prestigious Big Value Comedy Show at the Edinburgh Fringe Festival, after racking up a host of new act competition titles.
Host for the evening David Longley is one of the few comics able to play to any audience without compromising on his material, David Longley can delight a hen party and the comedy connoisseur on the same night. Intelligent, silly, thought-provoking and filthy, Longley has found himself headlining comedy clubs all over the country and is also in demand as an MC.
Tickets
£8 Advance / £10 Door
To book tickets, select an available time below