Please note exhibition open dates are subject to change depending on Covid-19 restrictions. All exhibitions are FREE of charge.
Through Soldiers Eyes
Wednesday 9 September to Saturday 20 November 2021
A collection of artwork, photography, sculptures, oral, visual and written elements as well as an immersive digital experience, this exhibition will take its audience on a journey through Armed Forces life in times of peace, conflict, repatriation, and rehabilitation, hopefully raising awareness to wider communities of our Armed Forces community who live among us. This is not a documentary of war, but a brief snapshot of each individual's personal journey. It will challenge visitors on how they think about our Armed Forces, with artworks from the trenches of WWI to present day by veterans, serving personnel and their families.
The Immersive WWI Trench Experience runs from Saturday 23 October to Saturday 20 November daily on a 10 minute loop. Please note this contains sounds of conflict behind the actor's voices which could be a trigger for some visitors. Suitable for ages 7+
Future exhibitions
Open Art exhibition
Monday 6 December 2021 to Saturday 16 January 2022
An opportunity for local artists to present up to three pieces of their work each, either as exhibition or selling pieces. For more information and application forms please email BATHGallery@durham.gov.uk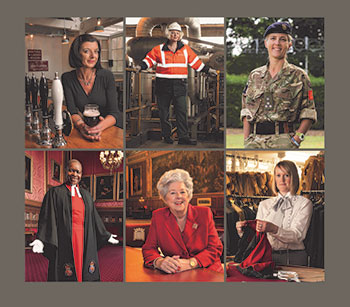 First Women UK
Thursday 24 February to Saturday 23 April 2022
First Women comprises a unique collection of 100 portraits capturing women in the UK who were "first" in their field of achievement. The portraits by photographer Anita Corbin provide inspiration and insight for a new generation of women seeking an understanding of their own roles in a rapidly changing world in which equality is still an issue.
First Women, The Collection, is about women's achievements, and one woman's exploration through the camera lens that endeavours to answer the question: How will women be remembered over the past 100 years? What have they achieved in the fields of Sport, Science, Politics, the Arts and Education? And who were these remarkable "first" women, what did they look like?