All exhibitions are free of charge.
Current exhibition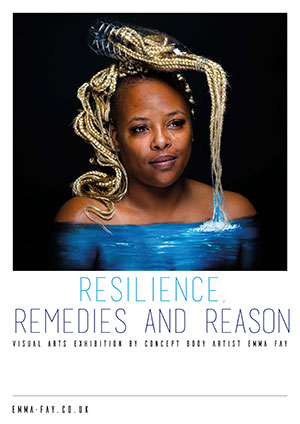 Resilience, Remedies & Reasons
Saturday 30 April to Wednesday 29 June 2022
Wellbeing is a general term that has increasingly entered our everyday conversations. Resilience, Remedies and Reasons exhibition explores a deeper, more personal view of what wellbeing and what the term "strength" means to individuals, with intent to serve as a reminder that we all have our own view of what it means to be well and resilient. Artist Emma Fay worked with participants from the Community Learning Project (CLiP), the West Indian Senior Citizens Leicester Ageing Together Project, Zfit Community alongside members of the public to understand their impressions of wellbeing and mental health. Following one-to-one interviewing, Emma visually portrayed their perceptions of mental wellbeing and "where you draw your strengths from" through the medium of body art.  The participants were co-ordinated by Zeenat Sinay and the late Pamela Campbell-Morris between 2018-2020. The exhibition funded by the University of Leicester's 'Health Matters' community engagement project 'Umatter', thanks to the generosity of the Edith Murphy Foundation. Recognising the differing health needs of diverse populations, 'Umatters' support looked to promote better mental health and wellbeing by providing a space for open dialogue and helping to reduce stigma.