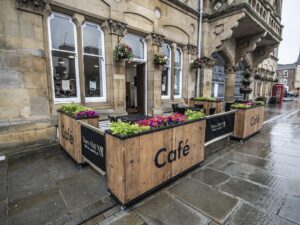 Bishop Auckland Town Hall with its theatre, gallery, library and café has undergone a major refurbishment programme and was due to fully reopen to the public earlier in 2020.
Unfortunately, this has been delayed due to the Covid-19 outbreak.
The library has now re-opened, and the café will reopen on 17 May.
The café has been relocated to the ground floor to provide a much larger, brighter and more welcoming space. A new menu will feature locally sourced produce including an exclusive 'Bishop Auckland Town Hall' blend coffee.
In order to reduce the risk of the spread of Covid-19, extra space has been created between tables in the café, while additional signage has been introduced to support social distancing. There is also a new outdoor seating area.
The café also provides the new home to Norman Cornish's Miners' Gala mural, which has been relocated from County Hall, in Durham. The piece is on display alongside a stunning stained-glass feature by fellow local artist Tom McGuinness.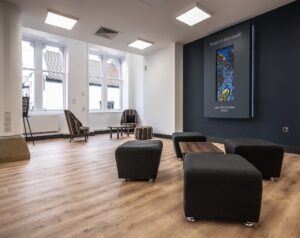 See our visit us page for the Town Hall's opening hours.